About us
Creation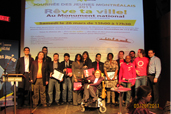 In 2002, in order to better deliberate the concerns of young Montrealers aged 12 to 30 and invite them to participate in the decisions that affect them, Ville de Montréal's Municipal Administration decided to create the Conseil jeunesse de Montréal. Officially active since February 2003, the CjM was entrenched in the Charter of the Ville de Montréal in June 2009.
Why was the CjM created?
To represent youths across the new Ville de Montréal.
To give young Montrealers a voice.
To grant youths decision-making authority.
To participate in the identification of priorities shared by youths in the municipality.
Mandate
To advise the Mayor and the Executive Committee in a regular and ongoing manner on all issues relating to youths.
To ensure that youth concerns are taken into consideration in the decisions made by Municipal Administration.
Areas of activity
Production of a notice requiring a written response from the Mayor.
Production of studies.
Production of an annual report.
Organization of events (symposia, training, consultations, etc.).
Transference of information between the CjM and local authorities (youth organizations, local youth issue tables, etc.) on notices issued and work carried out by the CjM.
Operation
The Conseil jeunesse de Montréal reports directly to the Mayor.
The members are appointed for a three-year term, which is renewable once only.
The members participate in regular statutory meetings and form project subcommittees.
They get involved in areas with municipal areas of competency (studies, consultations, training, etc.).
Composition
The Conseil jeunesse de Montréal is made up of 15 members including a Chair and a Vice-Chair. The members of the CjM are representative of the geographic, linguistic, cultural and social diversity of Montréal's youth, and fair representation is ensured between men and women.