Rue Peel Redevelopment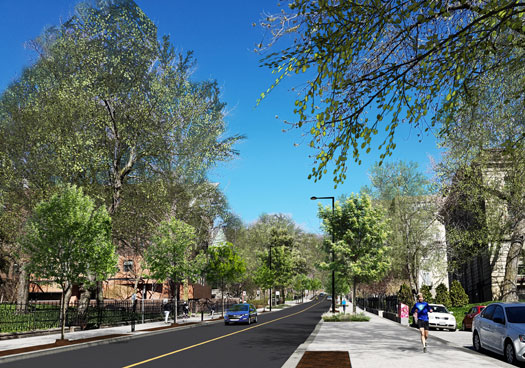 Montréal is rebuilding and redeveloping Rue Peel between Avenue des Pins to the north and Rue Smith to the south.
Underground infrastructures, such as water mains and sewer lines, have been replaced recently on certain stretches of Rue Peel, but there is still work to be done on the rest of the street, which gives the city a unique opportunity to redesign public property in a unified way.
For more information about construction, visit Info-Travaux (in French).
Context
Rue Peel is one of the only thoroughfares running between the river and the mountain. It is characterized by strong commercial activity on some parts and two universities: the École de technologie supérieure and McGill University.
Rue Peel also crosses three major historic sites: the Lachine Canal, Square Dorchester and Place du Canada and Mount Royal.
Significant private real-estate investments have been made or announced along this street and in adjacent neighbourhoods, which will increase the number of residents and users.
Exceptional archaeological discoveries!
Archaeological digs that took place as part of the Rue Sherbrooke road redesign in 2016 and 2017, and as part of the Rue Peel project in 2018 and 2019, made it possible reveal the remains of a St. Lawrence Iroquois village. Radiocarbon dating indicates that the site seems to have been occupied between 1400 and 1500.
These remains are part of the same site that was discovered around 1860 between Rue Mansfield and Rue Metcalfe, south of Sherbrooke, which was examined by William Dawson, rector of McGill University. Dawson thought it might be the Hochelaga village that Jacques Cartier visited in 1535. However, there is nothing that can seriously support this hypothesis.
Among the items discovered are 2,000 pottery shards, nearly 100 fragments of ceramic pipes and various food remains, including animal bones and carbonized plant seeds. Physico-chemical analysis of food residue on pottery also showed that fish was an important foodstuff for occupants of the village.
To promote these discoveries, the city plans to integrate commemorative elements that celebrate Iroquois history into the Rue Peel redesign. Montréal is working closely with the Kahnawà :ke community on this project as part of the reconciliation process that the city undertook in 2016.
Project objectives
The Rue Peel project consists of redeveloping public space and replacing underground infrastructures, including urban public utilities and Commission des services électriques de Montréal (CSEM), Hydro-Québec, Bell and Énergir networks.
The project objectives are as follows:
Offer an improved design of public space that reflects Rue Peel's importance as an institutional and commercial thoroughfare.
Promote the wealth of Montréal's thousand-year-old culture, in collaboration with indigenous communities.
Offer a more welcoming public space in the context of densification and a growing innovation hub.
Promote active and collective transportation by making them more comfortable, especially for pedestrians.
Replace underground infrastructures and aging urban public utilities.
In May 2019, Peel was also identified as one of the axes for the Réseau Express Vélo (REV), between the existing bike paths along the Lachine Canal and Boulevard De Maisonneuve.
Stages of the project
The project will be carried out in several stages due to the length of the street, taking into account other downtown projects that are underway:
2017: infrastructure work between Rue Wellington and Rue Notre-Dame, and between Rue Saint-Antoine and Rue Saint-Jacques.
2018-2019: infrastructure work will take place between Avenue des Pins and Rue Sherbrooke.
2019 (spring): public consultation on development scenarios for Rue Peel downtown, between Boulevard René-Lévesque and Rue Sherbooke. For more information, see https://www.realisonsmtl.ca/peel (in French)
2020 (spring-summer): end of infrastructure and surface development work between Avenue des Pins and Rue Sherbrooke
2020-2021: work between Rue Smith and Boulevard René-Lévesque.
2021: transitional work between Boulevard René-Lévesque and Rue Sherbrooke.
2022: beginning of permanent work between Boulevard René-Lévesque and Rue Sherbrooke.
For more information about construction, visit Info-Travaux (in French).
Documents
Information Sheet: Rue Peel Redevelopment (in French)
Contact