PRAM - Business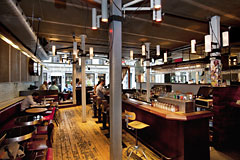 The new edition of PRAM-Commerce, which calls for a budget of $15.4M, was launched in the fall of 2015 in order to be available during the period from 2016 to 2020.
PRAM-Commerce is designed to stimulate, revitalize or consolidate commercial streets within the Montréal agglomeration by providing financial assistance for purposes of renovating commercial buildings. Under the program, three new streets within the agglomeration will be eligible for financial assistance annually. By 2020, some 15 Montréal streets will be able to offer their respective communities stronger commercial positioning and a business environment that's in step with current trends, together with a more attractive built environment.
First, the program provides financial assistance aimed at implementing business diagnostics and municipal master plans in concert with merchant associations and business development corporations (SDCs) and based on the needs of the sector or commercial artery. The municipal master plan deals with economic requirements (market studies, brand image, etc.).
PRAM-Commerce also offers a subsidy program to business people or commercial real-estate owners for purposes of renovating facades and modernizing the design of their stores. The program revolves around two areas:
Financial support covering one-third (1/3) of the cost of eligible work, up to $50,000, $125,000 or $250,000 per building, depending on its size.
An additional subsidy covering 50% of professional design fees, up to $4,000, $10,000 or $20,000 per renovation project, based on the size of the building.
Commercial streets eligible for the program – where business development corporations or merchant associations constituted as a non-profit organization are established – are designated by the executive committee based on selection criteria. The call for applications for the 2016 cohort closed on January 29, 2016. The call for applications for the 2017 cohort will be launched in the fall of 2016. The next application deadline will be announced on this Web page as soon as it is determined.