Montréal: Leading the way in aerospace
A concentration of jobs and global leaders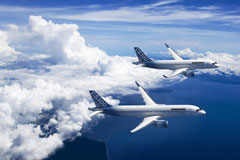 Montréal is one of the few places in the world where all the parts needed to build an airplane can be found within a 30-km radius. The 42,000 jobs in this sector and the many specialized firms make the region one of the world's foremost aerospace hubs, together with Seattle and Toulouse.
Aerospace in Montréal is:

$11.7 billion in annual sales
42,000 jobs in 2011, up 6.4% from the previous year
2nd largest hub internationally in terms of job concentration in aerospace, with one in every 92 workers employed in the sector
98% of Quebec aerospace production
60% of Canadian aerospace production
70% of total Canadian aerospace R&D spending
There are four world leaders in Greater Montréal, representing 60% of employment in the Quebec aerospace sector, or more than 25,000 jobs.
Greater Montréal has a number of the industry's foremost integrators, original equipment manufacturers, MRO specialists and suppliers. Together, the 12 firms account for 16% of all jobs in the sector, or nearly 7,000 jobs.
There are also many subcontractors and suppliers of specialized products and services in the region. Together, these firms employ close to 10,000 workers.
Major international organizations
Montréal is also home to a number of international civil aviation organizations, which foster multilateral co-operation and boost the city's profile:
International Civil Aviation Organization (ICAO)
International Air Transport Association (IATA)
Airports Council International (ACI)
Cospas-Sarsat
International Federation of Air Line Pilots Associations (IFALPA)
Civil Air Navigation Services Organization (CANSO)
International Business Aviation Council (IBAC)
International Council for Aerospace Training (CIFA)
International Federation of Air Traffic Controllers' Associations (IFATCA)
World Airlines Clubs Association (WACA)
A strategic think tank
Aéro Montréal, the Greater Montréal aerospace cluster, brings together all the major decision makers in the sector, including companies, educational and research institutions, associations and unions.