Partners
Concerted action for residential development
The Montréal Direction de l'habitation of the Service de la mise en valeur du territoire, works in association with various partners to carry out its mission to support residential development.
Projects involving social and community housing, are submitted by cooperatives, non-profit housing organizations or the Office municipal d'habitation de Montréal (OMHM).
The Direction de l'habitation applies the Inclusion of Affordable Housing in New Residential Projects Strategy aimed at building social and community housing units, affordable housing, as well as larger units for households with children, in association with the boroughs and real estate developers. These households may apply for financial assistance when purchasing a new property as part of the Home Ownership Program.
The Direction works with many stakeholders whether it is for financing, services or expertise. Below is a list of city partners involved in the field of housing.

The government of Québec, represented by the Société d'habitation du Québec (SHQ), finances the AccèsLogis Québec program. The program aims to provide social and community housing for low- and moderate-income households and for clients in difficulty with special needs. The Ville de Montréal has an agreement to manage the program throughout its territory.
The boroughs are responsible for drawing up and applying the planning by-laws in their territories. They play a leading role in examining and approving housing projects as well as determining the areas that need to be revitalized. They help to implement the Inclusion of Affordable Housing in New Residential Projects Strategy.
Technical Resources Groups (TRG) act as intermediaries between the persons or organizations who wish to develop social and housing projects and the Direction de l'habitation. Their contribution encourages the emergence and creation of new housing projects that are socially and economically viable. They are recognized partners of the Société d'habitation du Québec and Ville de Montréal for the implementation of the AccèsLogis Québec program. Four TRGs are recognized in Montréal. They are:
The private sector plays an important role in each stage of housing development projects, as well as by intervening on the housing stock. Both businesses and professionals from the private sector contribute to this process, including entrepreneurs, architects, bankers, engineers, appraisers, surveyors, soil analysis experts and realtors, to name a few.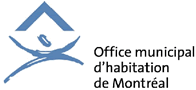 The Office municipal d'habitation de Montréal(OMHM) is a paramunicipal agency that manages a housing stock of 29 949 units, including 20,000 low-cost housing units. It helped build 1,699 dwellings with the support of the governments of Canada and Québec and Ville de Montréal. These units are aimed mostly at seniors with slightly diminishing independence and families. The OMHM also manages the rent supplement grants under the AccèsLogis program. The OMHM gives priority for its projects to people on its waiting list.

The Société d'habitation et de développement de Montréal (SHDM) is a paramunicipal agency that develops real estate. It owns several thousand affordable housing units, including nearly 4000 units in some 15 rooming houses. The SHDM markets divided co-ownership residential projects under the Accès Condos program to facilitate home ownership. Several new units in these real estate projects qualify for a grant under the city's Home Ownership program. They are aimed especially at families.
Several associations and multi-sectoral community forums also play an important role in the field of housing in Montréal.
Associations
Multi-sectoral community forums