Finding a home
Are you a tenant who is thinking of moving?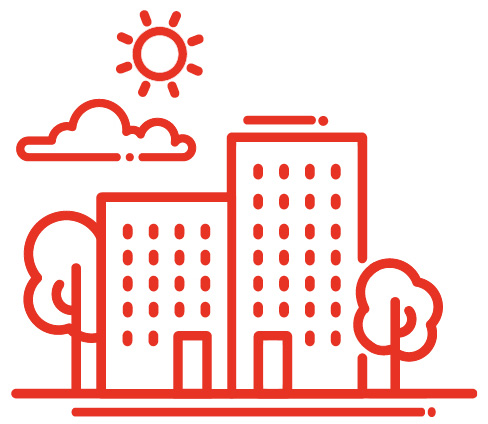 Did you know that fewer housing units are available in Montréal now than in the past? This may make it harder to find a new place to live.
It is a good idea to find a new apartment or flat before deciding to end your current lease.
Have you received a rent increase notice?
After receiving a notice of increase, you have one month to respond to your landlord in writing. If the two parties cannot come to an agreement, the landlord can ask the Régie du logement to set the rent amount. For further information
Problems with the sanitary conditions of your dwelling?
Contact your landlord immediately to try to come to an understanding. If the problem isn't solved despite your efforts, call 311 to contact your borough. For further information
Are you looking for rental housing?
There are a number of ways to find dwellings for rent in Montréal. Here are some sources and resources on the Internet to help you find housing.
General sources
Montréal's newspapers, including free ethnic and community papers and weekly papers
Bulletin boards in libraries, community centres, grocery stores and laundromats
University housing services for students
Housing assistance services offered by community organizations
Internet sources
Web sites specializing in housing ads
Web sites of daily newspapers
Web sites of community, ethnic and weekly newspapers (classified section)
Are you looking for handicapped-accessible housing?
Contact the Centre de réadaptation Lucie-Bruneau's Service Info Logement at 514-376-4757, extension 2222. This service centralizes and coordinates housing offers for people with handicaps or reduced mobility in the Montréal area.
Do you want to apply for social or community housing?
The terms "social housing" and "community housing" encompass various types of rental units. These may be cooperatives, or units operated by non-profit organizations as well as low-rent housing and affordable units for senior citizens with a slight loss of autonomy, or for families, that are offered by the Office municipal d'habitation de Montréal.
The construction of these dwellings is subsidized to meet the needs of:
Households with low or moderate incomes
Senior citizens with a slight loss of autonomy
Clients in difficulty and with special needs
A household can be composed of a family, a couple, a group of individuals living together or a person living alone.
New housing
To apply for social or community housing that has just been completed or about to be, please contact the Technical Resources Groups (TRG) (see the Partners page). These organizations can give you information on new housing projects and the selection criteria for tenants.
Existing housing
To find housing in an existing project, please contact one of the following organizations:
The Fédération des coopératives d'habitation intermunicipale du Montréal métropolitain (FÉCHIMM) at 514-843-6929
The Fédération des organismes à but non lucratif d'habitation de Montréal (FOHM), at 514-527-6668, for projects aimed at families, persons living alone, senior citizens, persons with special housing needs (mental health problems, homelessness, addiction, violence against women and children, young single mothers, etc.)
It is also possible to contact the Société d'habitation et de développement de Montréal (SHDM), a paramunicipal agency that manages a housing stock of 4,700 rental units: 514-380-SHDM (7436).
Are you looking for senior citizen housing?
Several social and community housing projects offer safe, comfortable and affordable housing for autonomous senior citizens.
Shelter Allowance Program (Revenu Québec)
You may be eligible for the Shelter Allowance Program if you are a senior citizen with a low income and spend a large portion of your total income (30% or more) on housing. Note that property owners, renters of a housing unit or room as well as persons sharing a dwelling with one or several occupants may be eligible.
Do you want to apply for low-cost housing?
To be eligible, applicants must meet certain criteria, particularly in regards to income. To learn more about the eligibility criteria, please visit the Office municipal d'habitation de Montréal (OMHM) website. You may also click on Submitting Your Application. Applicants must fill out and sign this application form. Office municipal d'habitation de Montréal application forms are also available at Accès Montréal offices.
To reach OMHM : 514-872-OMHM (6646).