Summer activities
Activities in the boroughs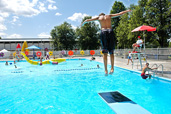 The city is full of activities for everyone all summer long.
Visit your borough's site to find out about activities near you.
Baseball
You can play baseball and softball in several parks.
List of parks
Biking
BIXI
Self-service bike network. Practical, eco-responsible and easy to use!
BMX
TAZ is the best place for BMX all year long.
Network of bike paths
Montrealers love travelling around on two wheels!
Cricket
Howard Park, in Villeray—Saint-Michel—Parc-Extension, has cricket training facilities.
ville.montreal.qc.ca/vsp
Cyclovia
Ride. Walk. Fun! 
ville.montreal.qc.ca/cyclovia
Golf
Rosemont—La Petite-Patrie has a nine-hole golf course.
ville.montreal.qc.ca/rpp
Hiking
You can hike along several kilometres of paths and trails in Montréal's large parks.
Large parks
Kayak & Rabaska
ecopap.ca (Découverte de la biodiversité en kayak et rabaska)
federationkayak.qc.ca (Jeunes pagayeurs pour la vie)
provert.org (Le canal Lachine prend son envol)
guepe.qc.ca (Parcours thématique nautique)
ville.montreal.qc.ca/pierrefonds-roxboro (Relais Rivière de la route bleue)
Skateboarding and inline skating
TAZ and some parks in the boroughs offer facilities for skateboarding and inline skating.
Skateparks
Soccer
It is possible to practice soccer in several parks.
List of sports fields
For schedules of events, see:
Surf & SUP
ville.montreal.qc.ca/ahuntsic-cartierville (Fête de l'eau)
mtlsupfest.com (MTL SUP Fest)
ville.montreal.qc.ca/verdun (Verdun actif)
Swimming
Swimming pools, wading pools and play fountains
Find out where municipal aquatic facilities are located.
Bois-de-l'Île-Bizard Beach
Small natural sandy beach located in the enchanting setting of a small bay of Lake of Two Mountains.
Cap-Saint-Jacques Beach
Enjoy a natural sand beach situated in a bay surrounded by a rich natural environment.
Clock Tower Beach
The Old Port of Montréal's urban beach offers a vacation atmosphere with its fine sand, chairs, parasols and refreshing mist.
Jean Drapeau Beach
A beach located just five minutes from downtown Montréal!
Rowing
Rowing is one of the oldest Olympic disciplines in modern times.
Montréal Rowing Club
ville.montreal.qc.ca/lachine
Tennis
Outdoor municipal tennis courts.
List of tennis courts
Tennis Montréal
tennismontreal.qc.ca