Integrated Urban Revitalization
Project – Airlie/Bayne Area
Phase 1: Diagnosis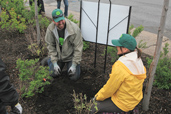 The area bounded by Airlie, Bayne, 80e Avenue and 90e Avenue has been identified as being very disadvantaged by the borough of LaSalle, neighbourhood police station 13, the CSSS Dorval-Lachine-LaSalle, the Table de développement social de LaSalle, the Carrefour Jeunesse Emploi, the CDEC LaSalle–Lachine, P.R.I.S.M.E. and residents in the area.
A relatively hemmed-in area of the Borough, with major roads crossing it, this block has buildings and apartments, along Airlie and Bayne, that have considerably deteriorated over the years, and that are occupied by a transient clientele today and house a poor population on the fringe of society.
For many years, the Airlie/Bayne area has been suffering from the impoverishment of its population and certain social realities associated with it: recent immigration, single parenthood, a high rate of unemployment and inactivity, a deterioration in the quality of the living environment and retail offering, crime, a feeling of insecurity and neglect among the residents, etc.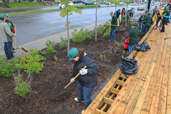 The Table de développement social de LaSalle has been directed by the borough of LaSalle, which wants to mobilize the residents in the neighbourhood and all stakeholders in the community, to coordinate the initial phase of an integrated urban revitalization effort for this area. This initial phase consists of two steps—the first, to develop a diagnosis of the neighbourhood, and the second, to set up a local action plan.
This revitalization effort is being managed by the Comité de revitalisation Airlie (CRA), whose members are regional and local stakeholders. In addition, the Table de développement social, through the support of the Direction de santé publique (DSP) de Montréal, is backing the training and mobilization of a committee of residents actively taking part in the revitalization effort.
The enclosed document (in French) presents the project to reduce heat islands—called Ma cour, ma rue, mon quartier (or literally, "My backyard, my street, my neighbourhood").
Lutte aux îlots de chaleur - quartier Airlie-Bayne [2,7 Mo - pages]