Accès-services LaSalle Card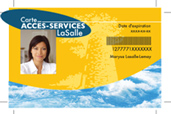 The Accès-services LaSalle card is not available at the Accès LaSalle office, but rather at L'Octogone library, located at 1080 avenue Dollard.
This card is required to:
make library loans
take advantage of reduced rates (Aquadôme and indoor skating rinks)
have free access to outdoor pools in summer.
Cardholder conditions
The card is valid for two years.
You must provide recent proof of residence (driver's permit, electric bill, etc. Hospital cards are not accepted.)

Personal card: free
Family card: free

A minor's application form must be signed by a parent or guardian.
Rates
Montréal residents: free (card valid for 2 years)
Non-residents (valid for 1 year)
- age 13 and under: $44
- age 14-64: $88
- age 65 and over: $56
Lost or damaged card
age 13 and under: $2 per lost or damaged card
age 14-64: $3
age 65 and over: $2
Schedule for obtaining a card at the library desk
Monday – Thursday: 10 a.m. – 8:30 p.m.
Friday to Sunday: 10 a.m. – 4:30 p.m.