Fleming Mill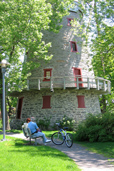 In 1815, William Fleming, a young Scottish immigrant, built the first mill, which would later become the issue of a long trial with the Sulpicians, the seigniors of the island of Montréal. Miller Fleming built the present-day mill in 1827. He innovated by building an imposing Anglo-Saxon type mill, unique in all of Québec. Although it stopped being used around 1891, the mill was summarily restored by the Burroughs Wellcome firm in 1930. LaSalle acquired it, as well as the surrounding land, in 1947. Classified as a historical monument on January 13, 1983, by Québec's Ministère des Affaires culturelles, the mill was restored in 1990. An interpretation centre and a country theatre now welcome the public every weekend during the summer.
Visit and Country theatre
Free tour of the exterior of the mill
Every Sunday of July and August 7, 3:00 p.m.

Théâtre champêtre
Le secret de maître Corneille - Sunday July 3 - 2:00 p.m.
Concierge de bibliothèque - Sunday July 10 - 2:00 p.m.
Saratoga - Sunday July 17 - 2:00 p.m.
Découvertes - Sunday July 31 - 2:00 p.m.
Archeological dig simulation workshop - Sunday August 7 - 2:00 p.m.