Signage and parking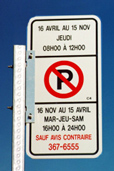 When you park your vehicle in LaSalle, read the signs carefully! By obeying the no-parking periods, you're sure to avoid a fine.
Nevertheless, through its Info-Parking system, the borough informs motorists whether it has lifted the parking restrictions marked on the sign. In this way, thousands of additional parking spaces are made available on days when the borough doesn't have to carry out any snow clearance or de-icing operations.
If you want to park on the no-parking side of the street, you may do so, but you must first phone the number marked at the bottom of the sign. If there are no snow clearance operations, the telephone message will inform you that you may park on either side of the street. If a snow clearance operation is announced, you will be told to obey the parking.