Urban Security Patrol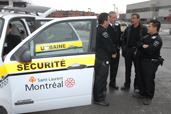 Because the Saint-Laurent Council is aware that a safe environment is an important factor in the quality of life of its citizens, a Urban Security Patrol was put in service in 2007. The Urban Security Patrol's services complement those provided by neighbourhood police, and the patrol works and exchanges with the police in a spirit of close cooperation on an ongoing basis.
On duty 24 hours, 7 days a week
The patrol is on duty 24 hours a day, seven days a week in order to closely monitor the territory and to ensure that bylaws covering various areas of activity are respected. The Urban Security Patrol plays an essential role, especially outside of regular activity hours. With its increased surveillance in the evening and in summertime, the Patrol offers many hours of surveillance: 224 hours in Autumn and Winter and 344 hours in Summer.
Officers patrol the borough's territory, measuring 43 km², which is divided into four residential sectors and four industrial sectors. They pay particular attention to municipal buildings and public spaces, parks and schools, as well as school traffic corridors during times when large numbers of students are out and about. In addition to ensuring that various Borough bylaws are respected, the patrol will be called upon to play a role in the event of emergency situations, natural disasters, fire or bad weather.
Please keep the following number in mind: 514 855-5700. The Urban Security Patrol is available at any time.