Snow clearing operations
To consult the progress of snow clearing operations:
ville.montreal.qc.ca/deneigement

General information and Info-remorquage: 311
In Saint-Laurent, snow-removal means…

…a team that's ready to go
Throughout the entire winter season, Saint-Laurent's Public Works crew ensures that the borough's 380-km-long road network is kept clear of snow in an effective and speedy manner. In addition to the daytime crew, consisting of between 30 and 55 employees—depending on specific needs—various work shifts made up of a dozen or so employees are always on call during night-time hours and weekends. When a snow-removal operation is launched, daytime employees can also be called on to work with employees from other work shifts.
…high-performance equipment
To properly undertake the six to eight snow-removal operations that occur during a normal winter, the Public Works crew ensures that it has access to the equipment it needs. As such, Saint-Laurent is the only Montréal borough to own two mechanical snow chutes, which are used to dump snow directly into the sewer system without obstructing it. Not counting leased vehicles, Saint-Laurent also operates around thirty salt spreaders, snow blowers and loader vehicles. In addition, the Borough is one of the few to participate in the Jessica Campaign by outfitting its heavy vehicles with lateral side guards to protect pedestrians and cyclists.
…environmentally friendly practices
In addition to having prepared a grid of streets and sites identified as priority snow-clearing places, such as schools and places of worship, Saint-Laurent has over the last few years developed various practices that aim to protect the environment. Also worth mentioning is the introduction of a snow-removal procedure for narrow streets in certain sectors and the use of reusable, environmentally friendly road signs.
…a bylaw that takes account of snow-removal operations

A few years ago, Saint-Laurent passed a bylaw that takes account of the borough's distinct features. In respect of this bylaw, it is against the law in Saint-Laurent for properties that have sufficient space to accommodate their snow to dispose of it on public property. Only in cases where the space on private properties (and not on public property) is insufficient can snow from private properties be dumped in the street, and only under the following conditions:

1. Snow must be disposed in such a way as to avoid obstructing pedestrian walkways or streets, roads or other routes used by vehicles, or blocking access to a building;

2. Snow must be deposited on the curb in front of the owner's building, on the same side of the street on which the building is located. The size of the snow windrow may not exceed two metres when measured from the edge of the curb and the sidewalk;

3. Following a snow fall, the snow must be deposited prior to the snow-removal operations on the same side of the street, that is, before the snow-blower undertakes its maintenance work on the street;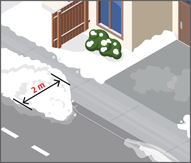 4. Snow may not be deposited:

a. less than five metres from an intersection;
b. within a five-metre radius of a fire hydrant;
c. in front of a car ramp;
d. in front of a bus-stop zone;
e. in front of institutional buildings;
f. in front of a space reserved for persons with limited mobility.
… valued cooperation from residents

Snow-removal is an activity where the valued cooperation of residents can make a real difference. That's why it is recommended that residents, in addition to respecting the bylaw, follow certain instructions to help operations run smoothly and to ensure their safety.
• Pay attention to special signage used during snow-removal periods.
• Make use of public transit to get around.
• Exercise caution when walking outside during snow-clearing periods, especially in the vicinity of heavy vehicles.
• Place waste and recycling bins at the entrance to the driveway, as close as possible to the street (or, during snow-removal operations, wait until the next collection if the bins are not full).
• Place stakes along the edge of the property at a minimum of 1,5 m from the inside edge of the sidewalk in such a way that they will not be not vacuumed by the snow blower.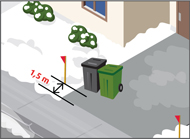 • Maintain a minimum 30-cm space between the edge of the sidewalk and the parked vehicle in order to allow snow removal vehicles to access the sidewalks.