Biodiversity
Accomplishments : 10 oases of biodiversity for 10 years of conservation of the parc Marcel-Laurin woodland
At the annual clean-up and enhancement activity at Parc Marcel-Laurin woodland, held to mark Earth Day on April 22, 2016, Saint-Laurent Mayor Alan DeSousa unveiled the 10 oases of biodiversity that would be developed over the year throughout Saint-Laurent territory to mark the 10 years of conservation efforts in this woodland.
"I am pleased to announce that over the past year, we have developed almost all of the 10 oases of biodiversity planned on the territory. Three of them will be completed this year," mentioned Mayor DeSousa.
"We are very proud of the work accomplished by our teams dedicated to developing these oases of biodiversity, which help improve the well-being of our community, while enhancing our living environment," concluded the Mayor. "I would like to take this opportunity to invite residents to take advantage of these spaces created for them. I am thinking especially of Parc Marcel-Laurin woodland, which gives its visitors a wonderful chance, both winter and summer, to discover the wildlife and plant life in Saint-Laurent. In fact, we will be holding our annual woodland clean-up operations on April 21, 1:30 p.m. – 4 p.m., as well as our Biodiversity Day on May 27, 1 p.m. – 5 p.m. I invite you to join us and I look forward to a large turnout among you all."
Map of the 10 oases (click on the image to enlarge) (in French)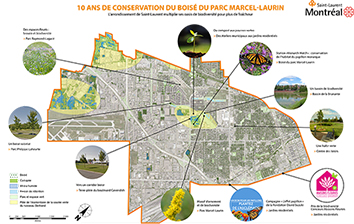 Biodiversity—A Priority
As mentioned in its Local Sustainable Development Plan for 2011-2015, Saint-Laurent has set up various initiatives to pursue the protection of all living species, natural environments and green spaces on its territory. A number of concrete benefits are associated with urban biodiversity, including its positive impact on health. All efforts promoted by Saint-Laurent, including the development of oases, are aimed at reaching the objectives identified in the plan.
The benefits rendered by biodiversity
An abundant canopy of branches and foliage creates cool areas and improves air quality in your neighbourhood.
In summer, the presence of trees close to residential dwellings reduces air-conditioning costs and, in winter, shelters dwellings from strong winds, thereby reducing heating costs.
Bird-watching offers a constantly renewing show and is a type of activity that can be practised in an urban environment.
The large number of natural spaces offers many wonderful opportunities for outdoor activities.
To learn more about the services rendered by biodiversity: An insurance for the future
Discovering biodiversity in Saint-Laurent
By sharpening our sense of observation, we can notice various examples of biodiversity in Saint-Laurent: in the borough's many public parks and green spaces, among other places, as well as in residential landscaping.
The green chronicles
Base Camp / 1000 Days for the Planet
The base camp "1000 Days for the Planet" from Espace pour la vie allows you to share your actions to protect the environment and that way encourage others to do the same. Become an "Ambassador" and show your accomplishments!
ambassadors.espacepourlavie.ca
Are you familiar with Giant Hogweed?
Introduced in the Americas for horticultural purposes at the start of the last century, Giant Hogweed (Heracleum mantegazzianum) was seen in Quebec for the first time in 1990. It is an invasive exotic plant whose sap can cause severe reactions resembling burns when it enters into contact with skin. In order to prevent Giant Hogweed from spreading in Montréal, citizens who notice its presence on public property are asked to contact the Accès Montréal network by calling 311 in order for a qualified professional to proceed with its removal. If the plant is found on private property, the services of a professional should be enlisted to safely eliminate it.
Horticulture enthusiasts can replace their Giant Hogweed with purple angelica (Angelica atropurpurea), an indigenous and innocuous plant that looks very similar and features brightly coloured flowers.
Photos: Hélène Royer and Noémie Blanchette-Forget (2012). Studio Claude Lavoie.