Revitalization committee of three NDG installations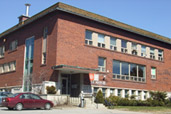 The revitalization committee groups together a dozen NDG community-based and recreational organizations as well as neighbourhood citizens and members of the borough administration. Its goal is to develop a project to revitalize the NDG Community Centre and the NDG indoorswimming pool and to draw up a plan to refurbish and upgrade the Centre Le Manoir.
Citizen Forum
On Wednesday, May 23rd, approximatly 200 participants took part in a forum concerning the revitalization of these three facilities. Amongst other things, the committee presented the results of a poll carried out by a specialized firm among the local population. The poll concerned itself more specifically with how these three facilities were used and with what activities people would like to see them offer. Its informative aspect aside, the forum was an opportunity for all citizens to come share their views on the types of services and activities these three community-based and recreational facilities ought to provide.
After the forum
A recommendation report will serve as a basis for designing a program of functional and technical guidelines that will allow work to proceed in the three facilities with the aim of optimizing their use and of delivering services and activities adapted to the wants and needs of NDG residents.