Others
Family Action Plan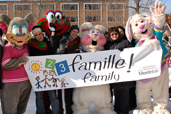 The Borough's Family Action Plan was adopted in 2008. The Plan is a useful tool setting out concrete short- and medium-term steps that the Côte-des-Neiges—Notre-Dame-de-Grâce borough will take to improve families' quality of life.
The Family Action Plan focuses on four themes:
housing and living environment;
culture, sports, recreation and social development;
public security;
traffic and transportation.