Borough of CDN—NDG adopts Urban Forestry Plan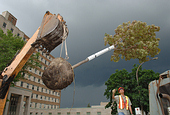 In May 2011, the borough of Côte-des-Neiges—Notre-Dame-de-Grâce (CDN—NDG) adopted its Urban Forestry Plan, thus becoming the second Montréal borough, after Saint-Laurent, to acquire a tool of this kind to ensure the preservation and development of its arboreal heritage.
Development of the CDN—NDG Urban Forestry Plan is the outcome of a commitment in the Politique de l'arbre de la Ville de Montréal (Montréal tree policy) and is also in keeping with the policies of CDN—NDG's Green Plan, adopted in 2008.
The borough's Urban Forestry Plan is structured around six objectives, from which stem 25 actions covering such aspects as planning, operations, management, by-laws and communications. The plan includes an inventory of the tree population in public areas, an action plan for the years to come, and various recommendations on upkeep of both young and mature trees, as well as planting, protection and awareness-raising.
CDN—NDG Urban Forestry Plan (in French) [21,6 Mo - 101 pages]