Parks and gardens
Community gardens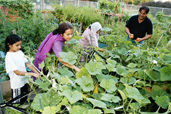 In summertime, you'll find many of our green-thumbed residents at the borough's community gardens run by volunteer garden committees. Gardening experts regularly drop by and share their technical skills with any gardeners looking for tips. The gardens also have sheds where tools and watering cans available to garden users are stored and made available to garden users.
Community gardens are very popular, and there is often a waiting list.
To sign up, just bring proof of residence.
Gardens in Côte-des-Neiges
For the Châteaufort and De la Savane gardens, go to the Société environnementale de Côte-des-Neiges, at 6767 chemin de la Côte-des-Neiges, suite 591 or call 514 738-7848.
Gardens in Notre-Dame-de-Grâce
For the Notre-Dame-de-Grâce, Rencontres and St-Raymond gardens, go to the NDG Food Depot, at 6450 avenue Somerled or call 514 483-4680.
Note that there is a registration fee, which varies depending on which garden you sign up for.
jardins communautaires eng [5,5 Mo - pages]

Borough community gardens

Châteaufort garden
avenue Van Horne and avenue Darlington
159 plots
De la Savane garden
rue du Parc de la Savane and avenue Mountain Sights
28 plots
Notre-Dame-de-Grâce garden
chemin de la Côte-Saint-Luc and avenue Rosedale
46 plots
Rencontres garden
avenue Notre-Dame-de-Grâce and rue Botrel
39 plots
Saint-Raymond garden
chemin Upper Lachine and avenue Oxford
22 plots