Nuisance control
Bedbugs
Bedbugs are brownish insects visible to the naked eye. They're active at night and can usually be seen along the seams of mattresses. They feed on human blood.
Bedbug infestations cause problems for humans and pets. Over the past few years, bedbugs have been spreading in large cities, including Montréal.
Helpful tips on preventing and eliminating bedbugs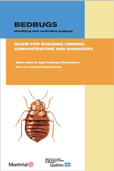 The brochure "BEDBUGS - Identifying and Controlling Bedbugs", aimed at building owners, administrators and managers, is available in French and English at the borough office, Accès Montréal offices, Centres de santé et de services sociaux (CSSS), as well as on the web sites of the Ville de Montréal habitermontreal.qc.ca and the Direction de santé publique (DSP) santepub-mtl.qc.ca.
The brochure Don't let the bedbugs bite PDF - 339 ko - 2 pages] is aimed at tenants.