Used batteries and cell phones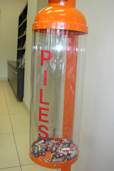 Did you know that you can now drop off your used batteries and old cell phones at certain borough facilities? The Accès Montréal office and the four borough libraries have been collecting batteries and cell phones since January 21, 2010. Just drop them in the battery collection box at any one of these locations. Please note that bags, boxes and cases are not accepted – you'll have to take them back home with you.
Questions? Just call 311.
CDN—NDG Accès Montréal office
5160, boul. Décarie, ground floor
Notre-Dame-de-Grâce Cultural Centre
6400, avenue de Monkland
Côte-des-Neiges Library
5290, chemin de la Côte-des-Neiges
Notre-Dame-de-Grâce Library
3755, rue Botrel
Intercultural Library
6767, chemin de la Côte-des-Neiges