Road repair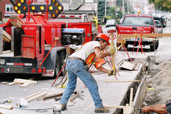 Work in progress: practice caution and keep a eye out for signs at all times!
Last year, the Borough stepped up its efforts to improve its road network, sidewalks and infrastructures. Again this year, crews are working hard to offer residents a safe environment conducive to active modes of transportation.
Thank you for staying informed, watching out for signage, and practicing patience.
4 sections with 6 intersections featuring curb extensions: Reconstruction of sidewalks and edging, redesign of intersections (curb extensions), levelling and resurfacing work
41 sections: Minor repairs to sidewalks and edging and work on public utilities
24 sections: Construction of speed bumps
30 tree pits: Construction of enlarged tree pits as part of the project to reduce impermeable surfaces
1 section: Sewer construction
34 sections: Replacement of lead water service connections
For more on the types of work operations
For information on road repair undertaken by the city of Montréal, on certain collector streets and main arteries in Côte-des-Neiges—Notre-Dame-de-Grâce, click on the following link: Info-travaux.