Potholes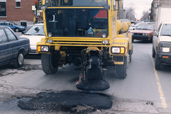 In the springtime, the freeze and thaw cycles cause more potholes to form. Potholes are generally created when water seeps under the pavement as the snow and ice thaw. If the water freezes again, it turns into ice and lifts the road surface. When it thaws, the ice disappears and leaves a hole under the pavement that collapses as vehicles pass over it.
Several borough crews are working day and night to fix this problem on local streets in Côte-des-Neiges-Notre-Dame-de-Grâce, aided by crews from central city services who are repairing the entire Montréal arterial road system.
Borough residents are encouraged to report abnormally large potholes by calling 311 and giving their exact location in the Côte-des-Neiges-Notre-Dame-de-Grâce borough. An Accès-Montréal representative will take down the information and the request will be automatically forwarded to the borough public works unit. A list of work priorities is drawn up every day.