Programs, plans and campaigns
Cycling Plan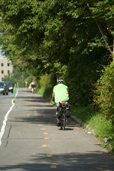 The Côte-des-Neiges— Notre-Dame-de-Grâce borough's first Cycling Plan was presented to the public in 2008. The highlights of this ambitious new plan include 45 km of new bike paths and 2,000 bike parking spots.
The purpose of the borough Cycling Plan is to create a safe biking network, encouraging people to ride their bicycles in the CDN—NDG borough, and making it easier to reach neighbouring boroughs and downtown Montréal by bicycle.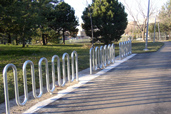 The planning horizon for the Cycling Plan is divided into three phases over seven years. The total estimated cost of the planned bike path network is $2,450,000. The Plan was drawn up by Vélo Québec in collaboration with borough authorities.
Partial pedestrianization of Rue Jean-Brillant
In July 2019, Rue Jean-Brillant was selected for the Ville de Montréal's Programme d'implantation de rues piétonnes et partagées (PIRPP),an initiative to create more pedestrian-friendly shared streets. The pilot project, funded by the borough of Côte-des-Neiges–Notre-Dame-de-Grâce, will be based on consultations. Its aim is put the emphasis on pedestrians in the layout of thoroughfares.
In this case, the south side of Rue Jean-Brillant will be turned into a public space to enhance the pedestrian experience of the thousands of passersby who use the street daily. The new design, which will give more than two-thirds of the street to pedestrians, will provide a safe and friendly space to walk between the Côte-des-Neiges subway station and the Université de Montréal. It will also expand the green space of Parc Jean-Brillant and create a place for people to relax and get together.
Because the PIRPP uses an innovative and participatory approach to design, the borough will begin a public consultation process with residents and users this fall. Plus, at the beginning of the 2019-20 academic year, "parklets" will be installed for a period of two months. This temporary arrangement will make it possible to collect residents' opinions, develop partnerships, and encourage neighbours to get on board.
The permanent redevelopment of Rue Jean-Brillant will be implemented as of 2020.