City Hall Tours – Lucien Saulnier Building
Due to the Covid-19 context, please note that the City Hall Tours are currently interrupted until further notice.
The Ville de Montréal is addressing this situation with the utmost concern. Therefore the decision has been taken to postpone our activities in order to limit the spread of the virus.
Enjoy a free guided tour of the new City Hall building!
Fall 2019 and winter 2020 schedule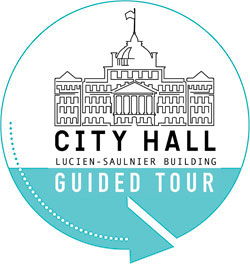 During the fall and winter, free guided tours are offered at City Hall. Guided tours are available on a fixed time, by appointment in English or in French.
Groups of 10 people or more (reservation required)
Wednesday to Friday
Schedule :
10 a.m., 11 a.m., 1:30 p.m. and 3 p.m. 
To register for a visit, complete the form.


General public (registration free)
Every Friday 
(every Friday from October 4, 2019 until June 26, 2020) 
Schedule : 
12:30 p.m. (guided tour in English)
2 p.m. (guided tour in French)
Please note that Friday visits will resume on January 17, 2020.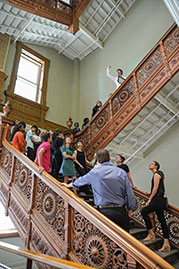 Start: Ground floor
Door: 155, rue Notre-Dame Est, Montréal, QC H2Y 1B5.
Duration: 30 minutes
The City Hall - Lucien-Saulnier Building is located at 155 Notre-Dame Street East and is accessible to people with restricted physical abilities.
Please note that access to the Hall of Honour and Council Hall may be occasionally restricted due to ceremonial or press events, without notice. The schedule can change depending on the current events. It is mandatory to book for groups of 10 or more people.
For more information : presidenceduconseil@ville.montreal.qc.ca