PRAM-Social economy
An incentive program for buildings used for social economy purposes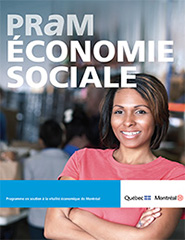 The application period is now over.

Please note that an application submitted can be put on a waiting list and could be deemed eligible if new funds were to be made accessible throughout the program. However, no subsidy is granted for work performed prior to the date on which the grant application is declared admissible.
The PRAM-Social Economy program is intended for owners and tenants of buildings used for social economy purposes in Montréal. Its goals are to:
Support real estate development projects in the social economy sector, at the design, planning and construction stages
Maximize the economic, social, cultural and environmental benefits of social economy projects
The program offers subsidies for businesses to help with the construction, expansion or renovation of their buildings, of up to:
30% of the cost of work, to a maximum of $600,000;
50% of professional fees, to a maximum of 15% of total cost of eligible work, or $250,000
No subsidy will be granted if the work is undertaken or done before the application is deemed eligible or if the work is not completed by June 30, 2017.
Documents relatifs au programme
Information
Owners and tenants of buildings interested in this program may call at the following phone number 514-872-7508.