Social Economy Bureau
Stimulating social innovation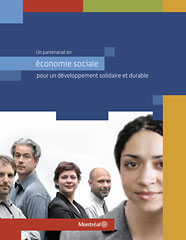 Montréal has differentiated itself from other major urban centres by making social innovation a key to its development. By adopting a partnership-based approach with social economy stakeholders, the city recognizes the sector's complementary role in local economic, cultural and social development.
Following the adoption of the Partnership For Community-Based Sustainable Development, the city's Service de la mise en valeur du territoire et du patrimoine (SMVTP) established the Social Economy Bureau (SEB) and tasked it with overseeing implementation of the partnership. The SEB acts as facilitator between the various stakeholders with a view to fostering collaborative projects. To that end, it assists project promoters by offering complementary services to those provided by the sector and supports initiatives undertaken by the boroughs and central services.
A partnership that contributes to the city's growth
The social economy contributes to the city's growth by meeting residents' needs in various ways. It directly creates wealth and offers employment opportunities for both educated workers and those excluded from the labour market. It also makes a direct contribution to the quality of life in Montréal by creating various kinds of accessible local services.
Social economy organizations have done a great deal to revitalize struggling neighbourhoods while ensuring sustainable development.
The Partnership is a true lever for economic growth based on five strategic directions:

More support for community-based entrepreneurship
A greater role for the social economy in major Montréal projects
A greater role for the social economy in improving quality of life
Greater openness to doing business with social economy enterprises
Better-integrated promotion of the social economy
An award to recognize excellence
The Montréal Social Economy Award celebrates the exceptional contribution of community-based entrepreneurship to the city's development. For decades now, community-based entrepreneurship has fostered social innovation and deserves to be better known and recognized by Montrealers at large. The award is a way for the city of Montréal to promote the tremendous innovative capacity of social economy enterprises.
2011 winners:
L'Itinéraire (community group) - winner of the Montréal Social Economy Award in the social innovation category
Insertech Angus – winner of the Montréal Social Economy Award in the international renown category
2010 winner:
CIBL 101.5 Radio-Montréal – winner of the Montréal Social Economy Award