PRAM-INDUSTRY
A program to support economic vitality in Montréal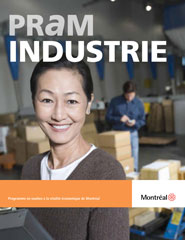 An incentive program for owners of industrial buildings in the metropolitan Montréal area. It is intended to:
accelerate investment in property development
improve Montréal's competitive position
maintain a diversified economic structure
revitalize or convert the city's industrial heritage
The program offers owners of non-residential buildings a five-year general property tax rebate on the increase in property value resulting from the construction, conversion or expansion of an eligible building.
The program deadline is December 31, 2014.