Montréal: Fashion city
A dynamic, creative industry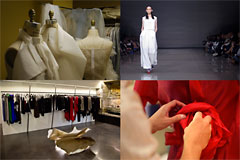 Montréal has always been a major hub of the fashion industry, making the city one of North America's three biggest production centres, alongside Los Angeles and New York.
A true creative incubator, the industry has helped shape Montréal's identity and contributes to its vibrant atmosphere.
Montréal boasts many high-level academic institutions and is one of the few Canadian cities to offer a university program in fashion.
Fashion in Montréal is:
36,000 manufacturing, distribution and retail jobs
2,800 fashion retail stores
78% of wholesale-distributors in Quebec
Nearly 1,000 specialized companies
$16.7 million in capital spending in the apparel manufacturing industry
Nearly $450 million in exports province-wide
Renowned, exciting shopping streets
Montréal also means:
Innovative design
Skilled labour force
Diverse retail products
Just-in-time production capacity
Reliable delivery
Competitive prices
Large- and small-scale production