Montréal: Retail capital
A major economic sector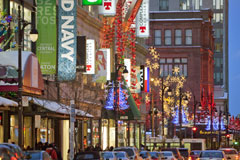 With over $40 billion in retail sales annually, Montréal is Canada's second-largest commercial hub.
Much of the commercial activity in the metropolitan area is concentrated in Montréal, in part because of its population density, among the highest anywhere in Canada:
Major shopping districts are located all over the island of Montréal
An underground city with 32 km of pedestrian-accessible shops, directly linked to the public transit system
Thanks to their wide-ranging ethnic and cultural backgrounds, Montrealers are open to gastronomic diversity and new culinary trends
Neighbourhood life based on the proximity of high-traffic commercial streets, sidewalk sales and public markets offering a wide range of local products, a unique Montréal feature
Commerce in Montréal is:
14,000 companies
30% of all stores in the province are in Montréal
120,000 jobs
The main employer in the Montréal metropolitan area
$40 billion in sales in 2012
$4.9 billion share of local GDP, or 4.4%
Commercial streets central to people's lives
A typical commercial street in Montréal has some 300 to 400 shops, nearly 80% of them independently owned. A number of the city's commercial streets have their own merchants' associations.
The city of Montréal has developed a financial assistance program known as PR@M - Commerce (hyperlien vers la page du programme dans ce groupe de page), aimed at encouraging businesspeople and building owners to renovate their premises. Since the program was created in 2008, the city has invested nearly $1.2 million in 79 studies related to analyses and local development strategies. More than $10 million has been awarded in renovation subsidies for commercial buildings. Under the program, the city has funded 452 projects in 38 neighbourhoods.
Watch the Commerce + Design, les clés du succès video
Well-established public markets
For the last 75 years, Montréal has had about 4 public markets selling plants and produce and 10 flower markets, with more than 215 growers and merchants today selling local and regional fare to Montrealers. The city's public markets are very popular with locals and tourists alike.
Colourful sidewalk sales (braderies)
Many sidewalk sales (braderies) are organized in the different boroughs by local merchants' associations.
Subject to authorization by the borough concerned, streets may be closed to vehicle traffic for this purpose.