Montréal: International audiovisual production centre
State-of-the-art facilities and major players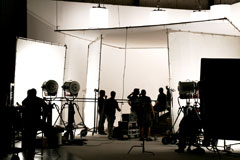 For over 60 years now, Montréal has been a leading international audiovisual production centre. The city has both state-of-the-art facilities and a tremendous variety of easily accessible shooting locations.
With more than 20 visual effects and animation studios, Montréal is a world leader in these fields.
The city is a renowned hub for local and international video game developers, drawing names like Ubisoft, Eidos, Electronic Arts and Artificial Mind and Movement and other industry stars that have understood the advantage of working with competent, talented people in a competitive business environment.
The film and audiovisual industry in Montréal is:

$1.3 billion in local, foreign and co-productions in 2011
35,000 jobs, many of them for bilingual film professionals
16 major foreign shoots in Montréal in 2012, generating $258 million in spin-off
500 shoots annually on Montréal Island
20 visual effects companies with nearly $80 million in contracts
35 multimedia companies and 500 production and distribution firms
50 shooting studios, including one of the largest in North America
Several fully equipped television studios