Supporting families throughout their residential housing experience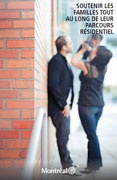 The city's Plan de fidélisation des familles 2014-2017 (Plan to keep families in Montreal) was adopted by the Montréal Executive Committee on August 21, 2013. It is aimed at families wishing to stay in Montréal and offers means to support them throughout their residential housing trajectory. It includes a series of measures to be implemented gradually, starting with Urban housing for families program.
The Plan to keep families in Montreal is based on four complementary interventions:
Influence the choice of a larger number of families through assistance programs to purchase or renovate a home.
Stimulate the construction of units meeting the needs of families, by introducing measures to produce a larger number of housing units for various clienteles (social and community housing, units built by private initiative, etc.).
Develop pleasant neighbourhoods for raising a family, by enhancing existing neighbourhoods and planning future neighbourhoods.
Promote the many advantages of living in Montreal by scaling up current actions and implementing a new communications campaign.