Swimming pools, wading pools and play fountains
Pools by borough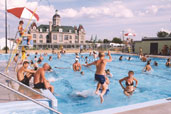 The city manages 48 indoor pools, 74 outdoor pools, 109 wading pools and 117 play fountains where young and old alike can enjoy a refreshing dip in the water. Visit your borough's site for more information about pool locations and schedules:
In case of extreme heat, please check the extended operating hours at outdoor pools and aquatic facilities.
Pool water quality
Water quality is tesed once every two weeks for outdoor pools and every four weeks for indoor pools. Tests are conducted in compliance with Québec's Regulation Respecting Water Quality in Swimming Pools and Other Artificial Pools (c. Q-2, r.18.1.02) [PDF - 292.38 KB - 5 pages]. Pool managers also test water at least once every three hours, and make any necessary adjustments immediately.
Outdoor and indoor pools – test results (in French)
Pools managers' commitment
Every possible measure is taken to ensure clean facilities.
The provincial regulation on water quality in swimming pools and other artificial pools is strictly enforced.
Tests are conducted regularly throughout the day and corrective measures are taken immediately when results indicate that water quality is not compliant with current standards.
Specialists test pool water on a regular basis to ensure that there is no bacterial contamination.
Water quality test results are compiled in a registry, and results for the past 30 days are available.
Part of the water is changed daily to facilitate water quality maintenance.
All lifeguards and lifesavers have received training from the Société de sauvetage du Québec. They work diligently to ensure your safety.
Please contact the manager of the facility for information about water quality and the cleanliness of the premises.
We are committed to working for your safety and well-being!
Users' responsibilities
You can help to maintain water quality by practicing proper hygiene. Here are a few guidelines:
Be sure to take a shower before you get in the pool. If you use sunscreen, please make sure to take a shower without soap before you get in the water. This will remove excess sunscreen, which compromises water quality, while ensuring that you are still protected against the sun's rays.
Do not go to a public pool if you have a contagious or infectious disease, diarrhea, dermatological flareups or open wounds.
Wearing a bathing suit is required. No other type of clothing is allowed.
Do not wear shoes in the shower or around the pool.
Go to the washroom before you get in the pool. Do not spit, urinate or blow your nose into pool water.
Take also a shower after swimming.
Here are some simple rules to follow when you visit a city pool in montréal
Bathing suit
Bathing suits are only used for swimming. Your suit should also allow you to swim freely.
Nursing
Nursing is allowed anywhere on the site.
For the comfort of both mom and baby, we encourage you to use the nursing facilities.
Basic rules for going to pool alone
The child must be over age six and of the minimum height
OR
Children under age six must meet the following criteria:
Know how to swim (swim test required)
Follow rules
Be able to get around the site
Be able to go to the bathroom alone
Lifeguard
One lifeguard can watch only one child
who doesn't know how to swim and isn't wearing a life jacket.
In all other cases, lifeguards must comply with the following ratios:
Children under five: 1
lifeguard/6 children
For children over six: 1
lifeguard/15 children
Life jacket
Children who can't swim should bring their
own life jacket. This will avoid the issue of a life jacket not being available in their size when they visit the pool.
Safety
Additional measures may be required to ensure optimal safety for users.
AT ANY TIME, lifeguards may lower ratios, make stricter rules or require any user to wear a life jacket.