Ma carte interactive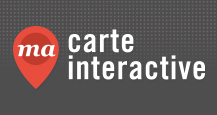 In a flash, on one single map, you can check the waste collection days, locate the places where sports and cultural activities are offered by the Borough, get access to zoning information and much more.
Initiated and developed by the Sud-Ouest Borough, Ma carte interactive (literally, "My interactive map") is easy to use and each element refers to a capsule that makes it possible to obtain additional information. The interactive map is also accessible from a mobile device (tablet or smartphone). No downloading is necessary.
Use
To find an address or a street intersection on the map, use the Localiser tool, under the Se localiser tab, at the top left side of the map. To navigate by topic, choose a subject by placing a check mark in the left-hand menu: pictograms or areas will then be displayed on the map.
To obtain additional information, click on a pictogram or on an area and a capsule will open. To close this capsule, click on the upper left dot.
Internet browser
It is recommended that you use Mozilla Firefox, Google Chrome or a recent version of Microsoft Internet Explorer to consult this interactive map. Also, by clicking on the "Navigation" tab, you will be able to easily navigate the map using "Streetview".
Click here to consult Ma carte interactive
The information provided by the Borough on Ma carte interactive is not posted in real time. For more information, phone 311 at any time. For the roadwork map, consult Info-Travaux. For snow clearance operations, check Info-Neige.