Food Waste
Starting Monday May 7, 2018, a new weekly food waste collectionwill be carried out at buildings with 8 housing units or less andlocated in the Red sector.
Sector concerned and schedule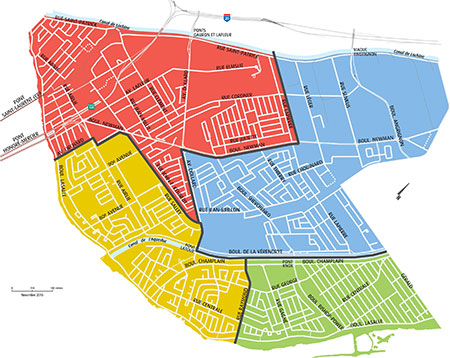 The food waste collection will be phased in, in all the Borough's sectors, as follows:
Blue sector: since May 2016
Yellow sector: since May 2017
Red sector: starting May 7, 2018
Green sector: starting May 2019
How to take part
Here are the steps to follow, to take part in the food waste collection:
Place the small bin in your kitchen and your brown bin outside, to avoid odours.
Place a compostable bag in your kitchen bin and place your food waste inside it.
Transfer the full, well-closed or well-tied, compostable bags from the kitchen bin into the brown bin.
On the day of the food waste collection (Tuesdays), place the brown bin on your property, along the edge of the sidewalk, without obstructing it, between 9 p.m. the day before and 7 a.m. the morning of the collection.
You do not have to use compostable bags. Instead, you may wrap food waste in newspaper.
Information :
Éco-quartier LaSalle
514 367-6000, ext. 6500
bienjeter@ecolasalle.org
What's accepted
Raw or cooked food waste:
Table scraps
Fruits and vegetables
Meat, with bones and fat
Fish, with bones
Seafood
Eggs and shells
Pasta, bread and cereals
Desserts and sweets
Solid milk products (cheese, butter and yogurt)
Coffee grains as well as regular tea and herb tea grains and tea bags
Soiled paper and cardboard waste:
Facial tissues
Paper towels
Paper napkins
Paper tablecloths
Soiled food wrappers
Pizza or chicken boxes
What's not accepted
Recyclable materials
Garden waste
Chewing gum
Liquids (soup, milk, juice, coffee, etc.)
Diapers and sanitary napkins or pads
Vacuum cleaner dust
Styrofoam
Metal
Cigarette and cigar butts and ashes
Animal litter
Hazardous household waste, such as paint and motor oil
Garbage to be disposed of in the household waste bag
Why take part?
On average, food waste accounts for 27% of the household waste found in Montrealers' garbage bags. By taking part in the food waste collection, you will be making it possible to divert these waste materials from the waste disposal sites.