The History of LaSalle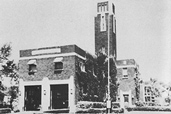 Contrary to what their name leads us to believe, the Lachine Rapids are located in LaSalle. This name is due to the fact that under the French regime, the heart of the parish of Lachine was located on the present-day territory of LaSalle. Since that time, this village core has moved to form the older part of Lachine (Vieux Lachine), and the territory located alongside the impetuous rapids took the name of the first seignior in the area: explorer Robert René Cavelier de La Salle.
From fur trading to canalizing the St. Lawrence River, the commercial organization of the country was mainly designed to avoid these famous rapids. Portaging became essential, along a pathway that was later to become chemin LaSalle and then boulevard LaSalle. The portage route, at the top of the Rapids, was the large bay where later in the 19th century, the entrance to the Montréal Aqueduct Canal, which crosses through LaSalle today, would then be built. This bay was the most popular meeting place for travellers, explorers and Amerindians until the first quarter of the 19th century.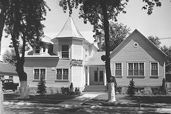 In 1824, the opening of the Lachine Canal was a major event in the history of Québec and Canada—an event that was instrumental in making Montréal the economic hub of the country. In 1912, at the time of its incorporation as a municipality, LaSalle didn't really have any industries. But being located near the industrial centre of Québec, and indeed of all of Canada, really proved to be in its favour. From 1925 on, LaSalle welcomed to its territory many industrial firms—including some very large ones—and it became one of the most industrialized municipalities in the Montréal area, despite the depression of the 1930s.
Following phenomenal growth in its population between 1954 and 1971, the number of its residents stabilized in the second half of the seventies. As a result, since the fifties, LaSalle's population has more than tripled, to reach 30,904 inhabitants in 1961 and over 74,000 residents in 2005.
During this period of time, social, religious and cultural life developed so much that a feeling of identification was instilled in the hearts of thousands of LaSalle residents. And it is this feeling of belonging that has made LaSalle a suburb with a truly original dynamic spirit underlying it all.
Since January 1, 2002, LaSalle has become part of the new Montréal.
Source: Histoire de Ville de LaSalle (available at L'Octogone library)