Message from the Mayor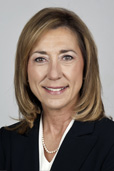 To all our Web site visitors, I would like to extend the warmest of welcomes to these pages devoted to LaSalle.
If you are not yet familiar with LaSalle, its environment, its businesses and its residents, the contents of this Web site will provide you with an excellent overview. It has taken us three centuries to build one of the most prosperous economic centres on the island of Montréal and a wonderful living environment along the St. Lawrence River, where you will find remarkable community spirit. I am therefore inviting you to take a few minutes to indulge in this virtual visit and I hope it will prompt you to come and meet us.
As for those of you in LaSalle, who are our neighbours and friends, I encourage you to explore all the sections of this vast website devoted to your borough. As you browse through, you will no doubt realize that not only do you still benefit from the outstanding neighbourhood services that the borough has always provided you, but the city is giving you access to a brand new range of services as well.
I do hope all of you will enjoy exploring our site…