Urban Projects
QA: Quartier Angrignon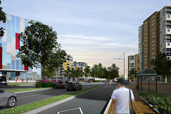 Quartier Angrignon - Léger
In 2010, the borough of LaSalle launched a future-oriented project to transform the present Newman-Angrignon area into a more modern neighbourhood. Already all imaginable commercial establishments may be found here. A very urbanized residential sector will be added to the Quartier Angrignon project; however, it will be greener and geared toward mass and active means of transportation. Enhanced by such undeniable assets as the metro station and the magnificent Angrignon park as well as direct access to Autoroute 20, the nearness of downtown and shopping malls, Quartier Angrignon will be come the perfect solution for all home buyers looking for a place to live on the island of Montréal.
At the core of this project—the development of a contemporary-style living environment, with a community of multi-storey buildings featuring quality architecture. Like the Plateau-Mont-Royal and Little Italy, which evoke very distinctive lifestyles, Quartier Angrignon will also boast an original residential sector, nestled in the heart of essential services for families, while offering, as a bonus, a view overlooking downtown Montréal and the St. Lawrence River.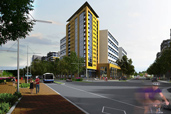 Quartier Angrignon - Newman
In a few years' time, the developers of Quartier Angrignon and the City's urban planning contributions will have completely changed the look of boulevard Newman, by creating the LaSalle of the 21
st
century.
For more information, consult the Website quartierangrignon.ca