Parc des Rapides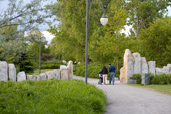 A real jewel of Mother Nature right here in LaSalle, the Parc Des Rapides is a tranquil little island ideal for those who want to escape from the hustle and bustle of urban life. Here you will be able to enjoy the magnificent view overlooking the river and its tumultuous rapids, discover rare species of birds or merely stroll along the many carefully maintained trails.
Take care of the Parc des Rapides: Obey the rules!
To preserve the plant life and wildlife in these natural surroundings created in an urban environment, it is of the utmost importance that the thousands of users obey the rules there.
To allow the young, newly planted growth to thrive, visitors must stay on the paths and not pick any of the plants. Besides, no fishing must be carried out in areas where fishing is not permitted, in order to protect the waterfront and wildlife that have made their home here. A sanctuary for migratory birds, the Parc Des Rapides is full of birds and small animals; feeding them or disturbing their habitat may prove harmful to them.
For visitors' safety, it is prohibited to swim in the river or walk there. Bicycles and household pets aren't authorized on the site. Shooting is also prohibited (air guns, rifles, etc.) as well as driving through the park in a vehicle or motorcycle or lighting a campfire. Visitors are urged to dispose of their litter in the litter baskets.
Héritage Laurentien naturalists, who are on site all year long, will be able to answer all your questions about the wildlife, plant life and history of this magical place.
General Information: 311
Animation and interpretation: Héritage Laurentien, 514-367-6540