Outdoor pools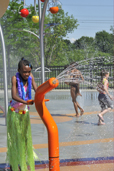 There are eight outdoor pools in LaSalle where you can cool off in the summertime and swim a few laps. All the pools feature a grassy area around the pool so that there are plenty of sunny spots to enjoy out of the water.
Admission
Age 3 and under (with an adult): Free* or $1.50**
Ages 4 to 16 and seniors (ages 55 and up): Free* or $2.50**
Ages 17 to 54: Free* or $3.50**
*With the Accès-services LaSalle card
**Without the Accès-services LaSalle card
Schedule of outdoor pools
June 15 & 16, 2019 : noon - 8 p.m. (Ouellette, Raymond and Hayward pools)
June 22 - July 31, 2019 : 11 a.m. - 8:30 p.m. (Riverside pool, 1 p.m. - 7 p.m.)
August 1-18, 2019 : 11 a.m. - 8 p.m.(Riverside pool, 1 p.m. - 7 p.m.)
August 19 - September 2, 2019 : 1 p.m. - 7 p.m. (Ouellette, Hayward, Leroux and Riverside pools. Please note that the Riverside Pool will be closed to residents on Saturday, August 24th.)
List of outdoor pools
Parc Leroux pool:
7540 rue Centrale (corner of Lacharité)
Parc Ménard pool:
300 rue Clément
Parc Raymond pool:
555 boul. Bishop-Power
Parc Lefebvre pool:
8600 rue Hardy (corner of Dollard)
Parc Lacharité pool:
55 chemin Latour (corner of Centrale)
Parc Ouellette pool:
1407 rue Serre (angle Robert)
Parc Hayward pool:
170 av. Orchard
Parc Riverside
635, 35e Avenue
For more information about LaSalle's pools (schedules, classes, etc.), call 514-367-6460.
Play fountains
Discover the splash pads at L'Aquaciel's playground located near Centre sportif Dollard-St-Laurent, 707, 75e Avenue. (Works, opening at the end of June)
There are also 14 parks with play fountains to entertain and refresh the toddlers. These are the following parks :
Lefebvre
Corner Hardy Street et Dollard Avenue
J.-D.-Ducharme
Corner Jean-Brillon and Rancourt streets
Ouellette
Serre Street between Giguère and Robert streets
Père-Marquette
Corner Bouvier and Louis-Joliet streets
Leroux
Corner Centrale Street and Lacharité Avenue
Riverside
Corner Raymond and Centrale streets
Lawrence
Beyries Street between 66th Avenue and 68th Avenue
Boivin
Corner de Matane and de Cabano streets
Cavelier-de-LaSalle
80th Avenue
Hayward
Orchard Avenue
Dalmany
Dalmany Street between Strathyre and Stirling Avenues (Works, opening at the end of June)
Ménard
Clément Street near Bergevin Street (Play fountains closed until further notice)
Jeannotte
Corner Clément and Trudeau streets
J.O.R.-Leduc
Béique Street between Giroux and Paquette streets
Open : June 3
Schedule of Play fountains : 8 a.m. - 8 p.m.
L'Aquaciel : 8 a.m. - 9 p.m.
Admission is free.