Bicycle Paths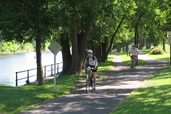 The borough of LaSalle boasts 24 kilometres of bicycle paths. A ride along the bikeways of LaSalle provides an opportunity to become acquainted with the history of the region and to admire the natural sites. The path along the Lachine Canal, which marks the boundary of LaSalle, relates—along its route—major episodes in the industrial life of the 14th century. It also offers a view of lac Saint-Louis from its far western point.
Every year, over 160,000 people cycle along the 8-km waterfront bikeway. For a more urban ride, the bicycle path bordering the Aqueduct Canal leads cyclists to the limits of the metropolis, with a rest area at parc Angrignon along their way.
Safety along the bicycle paths
For safe, harmonious use of the bikeways, it is important to respect the other users and the signs in force. Cyclists and skaters must avoid excessive speed and risky passing in order to prevent accidents. Pedestrians must use the sidewalk, when there is one. If not, they must walk single file in order to keep the way clear for everyone else using this path.
The bicycle path along the waterfront has been doubled in width, wherever possible, to make place for the many walkers, parents with strollers and joggers who want to take advantage of the beauties of the shoreline. Every summer, police cadets carry out preventive patrols along these paths to enforce the rules and inform cyclists about bike safety regulations.
Bixi
Two stations have been set up on boulevard LaSalle, one at 6e Avenue and the other at rue Alepin.
BIXI has 411 stations and 5,000 bicycles throughout Montréal. At montreal.bixi.com, you can join, obtain more information on the service or consult the map indicating the location of the stations.