Animation en cavale / Activities in the Parks
A team of activity leaders will be visiting various parks in the Borough this summer. Youngsters from LaSalle are invited to take part in the sports and recreational activities they offer.
Schedule (subject to change) - 1:30 p.m. - 6:30 p.m.
o Monday: Leroux & Boivin parks
o Tuesday: J.O.R.-Leduc & Dalmany parks
o Wednesday: J.D.-Ducharme & Boivin parks
o Thursday: J.D.-Ducharme & J.O.R.-Leduc parks
o Friday: Leroux & Dalmany parks
During rainy days, youngsters will be welcomed in the afternoon at parc Leroux.
Day Camps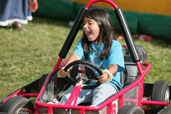 Day camps for all tastes The organizations that offer day camps are all non-profit associations or corporations recognized by the borough of LaSalle. Although these organizations have full responsibility for the camps and for establishing the program, the rates and the registration procedures, they can count on the cooperation that the Borough provides all recognized associations with regard to the loan or rental of equipment or premises.
Day Camps - 2019 Summer Camp
Corporation L'Espoir
Camp for intellectually or developmentally challenged.
$190/week.
514 367-3757
corporationespoir.org
Héritage Laurentien
Parc des Rapides
Camps for youngsters who enjoy nature and outdoor activities (Ages 6-17).
$125/week.
514 367-6540
campdejour@heritagelaurentien.org ou heritagelaurentien.org
Jeune Aire
707, 75e Avenue
For an introduction to gymnastic or improve (Ages 6-12).
$150/week (except week 1 - 4 days $120)
514 367-6539
clubjeuneaire.com
Loisirs Laurendeau-Dunton
Camp (Ages 5-12)
$170/week. activity included
514 364-5510
inscription@loisirs-ld.org ou loisirs-ld.org
Association de soccer mineur de LaSalle
Parc Riverside
Soccer camp (boys and girls, Ages 6-14)
$150/week (before April 15) and $170/week (after April 15)
514 441-4121, camp.lmsa@gmail.com or lasallesoccer.com
Phoenix Triahtlon
Place to be determined
514 367-6438
info@phoenixtriathlon.ca