L'Octogone Library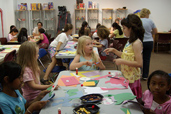 1080 avenue Dollard
514-367-6376
L'Octogone Library Expansion Project
The project consists of fully renovating and enhancing the present building and expanding it by 1600 m2. An outdoor activity/entertainment area and a visual link with Parc Félix-Leclerc adjacent to the library are also planned. Comics will be the unifying theme for the development of the new library, which will be designed and built in accordance with the key principles of sustainable development. The project objective is to be granted LEED Gold certification.
The launch of the multidisciplinary architecture competition for the expansion and renovation of L'Octogone library will take place on Monday, August 7, 2017.

More details may be found on the Design Montréal site.
Press release issued by Ville de Montréal
If you still believe that a library is a dusty place, caving in with old books, it's because you haven't yet discovered L'Octogone library in LaSalle—a real library of the future that is always on the lookout to meet its members' needs.
At L'Octogone you will find:
complete adult and youth sections
thousands of library materials and bestseller rentals
a constantly updated reference section (magazines, newspapers, reference books, databanks)
hundreds of DVDs: documentaries, animated films or educational films for children
CD-ROMs and language courses
a toy library with over 400 toys
introductory library activities for children
a state-of-the-art computer laboratory
competent staff, ready and willing to be of assistance.
And that's not all! There are also activities for children in the Multimedia Room, story hours, a Summer Reading Club, the Books for Baby program, the "Les mots partagés" workshop, exhibitions and much more. The library has even gone green! It provides reusable bags for its members to carry home their loans. The bags are available at the circulation desk for $2.
Consultation of the online catalogue
You may consult the library catalogue online at http://catalogue.ville.lasalle.qc.ca. You may even do your research in the comfort of your own home, place a hold on books online or renew your loans online and even consult your member's file on the library's website at http://octogone.ville.lasalle.qc.ca.
To loan library materials and take part in activities
The Accès-services LaSalle card is required to loan library materials and take part in library activities. You may obtain a card at the library's membership card desk. Membership is valid for two years.
2-year membership for residents of Montréal
Individual card: Free
Family card: Free
2-year membership for non-residents of Montréal
Child card : $44
Adult card: $88
Senior card: $56
Schedule (September to end of June)*
Monday - Thursday: 10 a.m. – 9 p.m. Friday, Saturday and Sunday: 10 a.m. – 5 p.m.
The Accès-services LaSalle card service closes 30 minutes before the library.
* Summer hours: open at noon on saturday and sunday.