Public transportation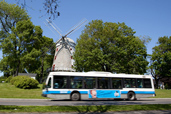 Public transit in LaSalle is affordable, practical and good for the environment! Around 12 bus lines go across the borough, offering service to LaSalle's main municipal and public buildings. Nearly all of these bus lines offer service to at least one metro station, including the closest one, Angrignon. The Lafleur-Monette terminal under the Mercier bridge facilitates connections between bus lines.
A reserved lane was created on Boulevard Newman, the centre of LaSalle's road network, allowing thousands of residents to travel more efficiently during rush hour. The 106/506 bus line, one of the busiest in Montréal's transit system, serves around 16,000 passengers a day along this lane!
The Delson-Candiac commuter train stops in the mornings and in the evenings at the LaSalle train station (avenue Highlands and boulevard LaSalle) with service to Lucien-Lallier (Windsor) station in just under 15 minutes.