Snow removal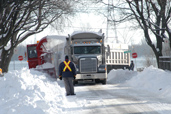 The cooperation of residents—and motorists in particular—is essential for snow clearance operations to be carried out properly. Click on the following icon to familiarize yourself with the rules to be followed in order to ensure efficient snow clearance operations on your street:
Always keep an eye on permanent and temporary road signs.
Don't put garbage cans and recycling bins on the sidewalk; keep them on your own property.
Clear the snow from your driveway before the snowblower passes.
Park your car in your driveway to free up street parking spaces.
And make sure that the sidewalk cleaner will be able to carry out his work, by placing the stakes marking out the boundaries of your property, at a distance of 60 cm from the sidewalk, and by parking on the street at a distance of 30 cm from the sidewalk.
These simple actions will make it much easier for the snow clearance crews to carry out their work and will help you more quickly have passable streets and sidewalks after a snowfall.
View Operation's Progress!
Full details about progress, parking and towing during snow removal operations may be found online at: ville.montreal.qc.ca/snowremoval.
In order to make it easier to plan your travels and park your vehicle during snow loading operations, Ville de Montréal encourages residents to download the INFO-Neige (INFO-snow) app from the AppleStore or GooglePlay or to consult the snow removal planning map.
Please note that the signs installed on the streets for parking during snow loading operations always take precedence over the information on the app and map. Residents are urged to obey the signs indicating the no-parking periods.
And the INFO-remorquage (info-towing) system will make it easier to access information on a towed vehicle: ville.montreal.qc.ca/inforemorquage.
Parking
During snow loading operations, free night parking is available at the following locations:
11 p.m. - 7 a.m.: Centre sportif Dollard-St-Laurent: 707 - 75e Avenue (130 places)
11 p.m. - 7 a.m.: Borogh Hall, 55 avenue Dupras (150 places)