Political calendar
Citizens' Saturdays
Citizens' Saturdays are held monthly. They are an ideal opportunity for Pierrefonds-Roxboro residents to meet elected officials and discuss matters of importance to them and the community. Join us in an informal and friendly setting where a warm welcome awaits you.
Location
Borough Hall
13665, boul. de Pierrefonds
Pierrefonds (Québec) H9A 2Z4
Telephone: 311
Fax: 514 624-1300
E-mail: pierrefonds-roxboro@ville.montreal.qc.ca
Time
10 a.m. to 1 p.m.
Upcoming Citizens' Saturday :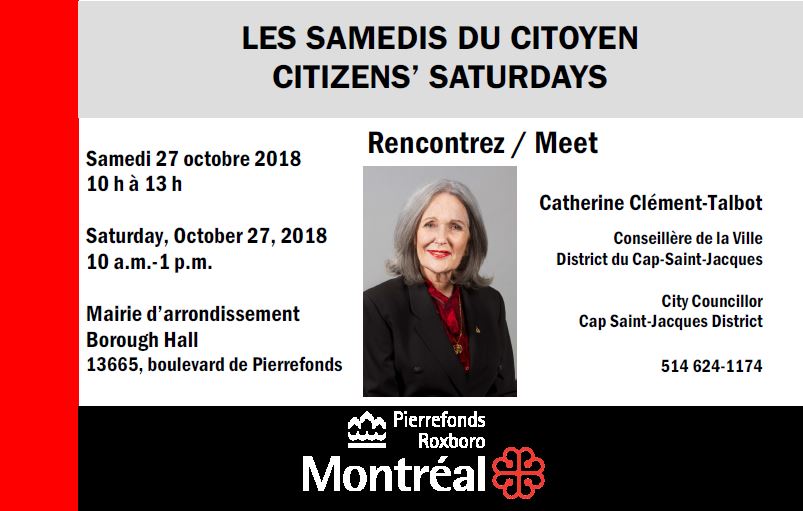 Schedule
Citizens' Saturdays are usually held the last Saturday of the month. There is no Citizens' Saturday the months of December, June and July.
Saturday, November 25, 2017: Dimitrios (Jim) Beis
Saturday, January, 27, 2018: Yves Gignac
Saturday, February 24, 2018: Catherine Clément-Talbot
Saturday, March 24, 2018: Louise Leroux
Saturday, April 28, 2018: Benoit Langevin
Saturday, May 26, 2018: Dimitrios (Jim) Beis
Saturday, August 25, 2018: Catherine Clément-Talbot
Saturday, September 29, 2018: Yves Gignac
Saturday, October 27, 2018: Catherine Clément-Talbot
Saturday, November 24, 2018: Benoit Langevin