Pierrefonds Public Library
Contact information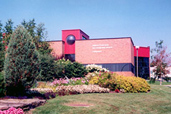 13555, boulevard de Pierrefonds
Telephone : 514 620-4181
Bus routes: 68 / 201 / 205 / 208 / 209 / 409 / 468 / 470
Opening hours
Mondays to Thursdays: 10 a.m. to 9 p.m.
Fridays: 10 a.m. to 6 p.m.
Saturdays and Sundays: 10 a.m. to 5 p.m.
Important
Because of school elections, the Pierrefonds Public Library will close at 4 p.m. on Sunday, November 2, 2014.
Collections and services
Collections and services you've never dreamed of:
An impressive collection of French and English books for adults, teenagers and children;
Reference books: dictionaries, encyclopedias and specialized directories;
Magazines and newspapers;
Government publications;
Foreign language and bilingual books;
Large print books;
Talking books;
CDs and DVDs;
Weekly Story time for preschoolers (2 ½ to 5 years);
Monthly Story time for children;
Conferences and workshops for adults;
Meetings with authors;
Guided visits for school groups, literacy groups and francization groups;
The « Une naissance un livre » Program;
The « Les mots partagés » Program;
10 Internet-enabled computers;
Wireless Internet access;
Databases (newspapers and magazines);
Le Portillon, home delivery service for persons with reduced mobility;
Special activities for youngsters during the Summer.