CRD and bulky items
A new collection for CRD and bulky items will be done every two Wednesdays in the borough. This collection is limited to residential housings only.
The service is free, no call required.
Holiday schedule
Collections scheduled on December 25 will be postponed to December 26. There will be no collection on January 1.
View the Schedule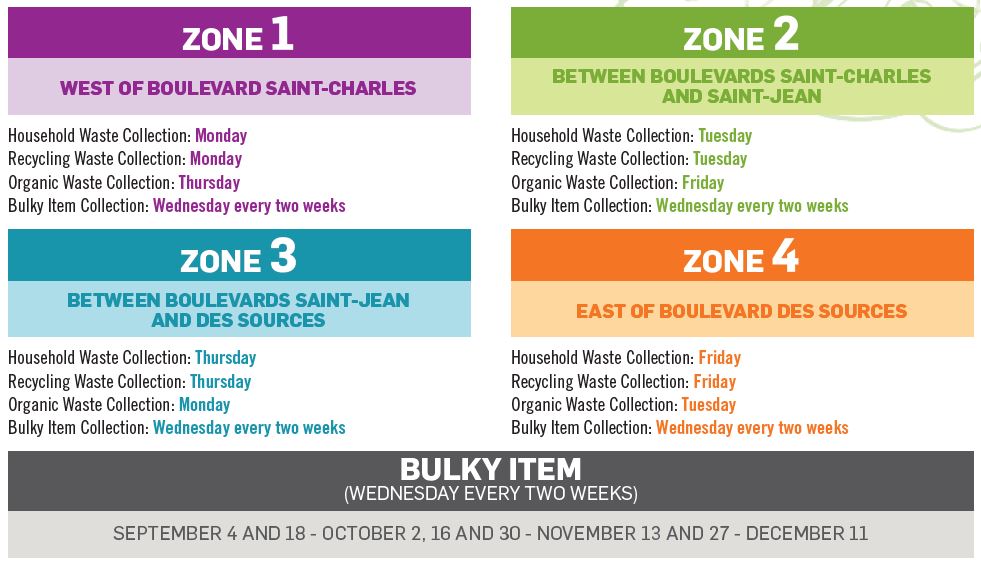 Construction, renovation and demolition debris (CRD)
Accepted waste
Residues: stone, asphalt, concrete
Brick
Shingles of asphalt
Timber
Ceramics
Electrical wiring
Coating material
Ferrous metals: made of steel and cast iron
Non-ferrrous metals : aluminum, copper, lead, nickel, zinc
Melamine
Gypsum board
Textiles
Flat glass
Etc.
Bulky items
Bulky items are large residential objects made of wood, metal, plastic, or any other reusable material.
Schedule (wednesday every two weeks)
September 4 and 18
October 2, 16 and 30
November 12 and 27
December 11
Accepted items
Refrigerator, stove, washer and dryer, toaster, wardrobe, bath, bookcase, desk, chair, file cabinet, chest of drawers, sink, hot water tank, table, toilet, bicycles.
CRDS and bulky items must be out the day before the collection as of 7 p.m., or the day of the collection before 7 a.m.
Moreover
• CRD and bulky items must be well organized for collection;
• each item must weigh less than 25 kg and not exceed 5 m3 (the size of two fridges";
• electronic appliances are not accepted (e.g. television, computer, stereo, etc.) These items can be dropped at the econcentre;
• for excess quantities, call 311.
Pass it forward, a sustainable choice!
Moving? Changing your furniture? Some objects are cluttering you?
Give them a second life!
Before taking out your furniture or other bulky item for collection, some options are available: bazaars, charities, craftsmen, etc.
Ville de Montréal makes available a directory of addresses where you can bring objects that you no longer need to be reused.
You can also consult the Répertoire des récupérateurs, recycleurs et valorisateurs (French only) or drop your items at the écocentre.
Écocentre Saint-Laurent
3535, rue Sartelon
Saint-Laurent H4R 1E6
514 872-0384