Household hazardous waste HHW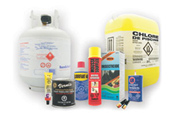 Household hazardous waste (HHW) is a substance or commodity product presenting a danger if placed among household refuse such as paint, motor oil, rechargeable and non-rechargeable batteries, fluorescent tubes and compact fluorescent light bulbs, etc.
2019 Schedule

• Saturday, June 8 and Sunday June 9, 2019, between 9 a.m. and 5 p.m.
• Saturday, September 21 and Sunday, September 22, 2019, between 9 a.m. and 5 p.m.
A collection of electronic products will be held during the HHW collections, in collaboration with the Association pour le recylage des produits électroniques (ARPE-Québec).
To know about accepted devices, visit the page Quoi recycler (French only)
Location
Fire station
13795, boulevard de Pierrefonds
Pierrefonds H9A 1A6
If this schedule is not convenient for you, you can bring your HHW at a recuperation store. Consult this list.
Accepted waste
Painting
Dyeing
Lacquer
Rustproof
Aluminum paint
Motor oil

Batteries
Rechargeable and non-rechargeable batteries
Compact fluorescent bulbs
Mercruy (thermometer)
Cleaning products

Propane tank
Fuel
Aerosols
Chemicals for swimming pools
Pesticides and fertilizers
Refused waste
Drugs, asbestos, PCB-containing products, explosives-containing products, biomedical waste, radioactive waste, firearms and ammunitions, fireworks or Bengal, bottles of compressed gas other than propane (insulating mousse, helium, oxygen).
Important!
HHWs must be brought in their original packaging and identified;
Never mix HHWs;
Keep HHWs out of the reach of children;
Avoid accumulating HHW substances at home to reduce the risk of fire;
Liquid mercury should be placed in a container covered with water and sealed to prevent vapors from emitting.
For more information :