Recycling materials
The borough is divided in 4 zones with 4 different waste collections schedules.
The changes apply to housings, businesses and public institutions.
Find your zone and waste collections schedule :
Holiday schedule
Collections scheduled on December 25 will be postponed to December 26. There will be no collection on January 1.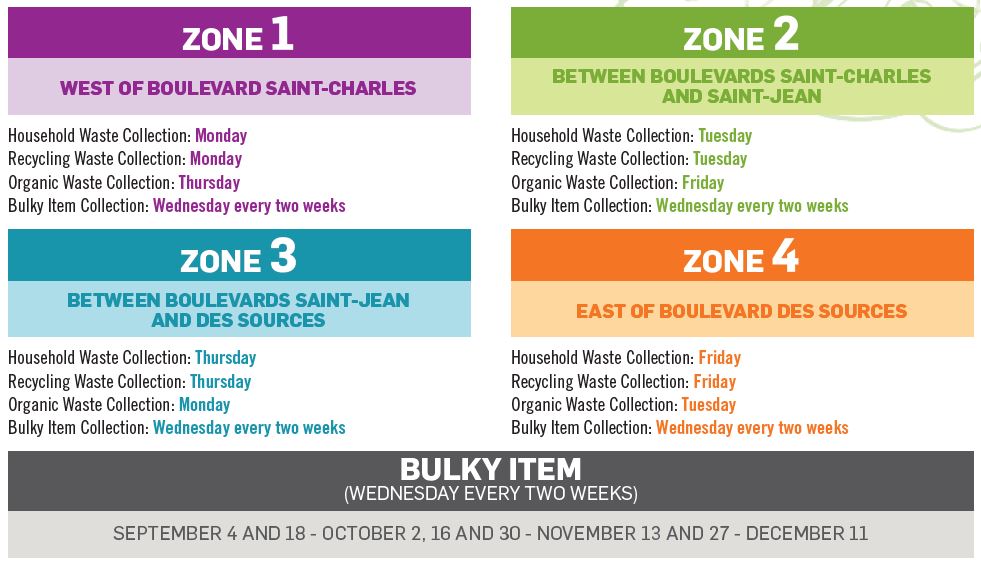 Important: Your bin must be out for collection between 7 p.m. and 7 a.m. (9 a.m. for public institutions and businesses).
The bin must be placed at the curb on your property;
wheels and handles must be facing your home;
never place the bin on the sidewalk or in the street;
do not put the bin on snow banks;
your bin should be easily visible and accessible to the operator.
Misplaced bins will not be collected.
What GOES in your green bin?
Paper and cardboard: glossy paper, books, cereal boxes, juice box, etc.
Rigid plastic: water bottle, oil bottle, strawberry containers, etc.
Soft plastic: grocery bags, bread bags, milk bags, etc.
Glass: bottle of wine, bottle of vinegar, food pots, etc.
Metal: cans, lids, stoppers, plates, etc.
DO NOT put in your green bin
Plastic no. 6 (e.g. yogurt jars), styrofoam, meat trays, plastic utensils, and many others. Visit the Recyc-Québec site for more information on recycling best practices (in French only).
Put all recycling waste in bulk in the green bin;
the lid of the bin must be free of any debris (recyclable materials, snow, etc.);
help us keep the streets clean on collection days, by making sure that the lid of the bin is closed and that it does not overflow.
New in the borough?
All new residents (first owner) of a single-family or multi-family of 8 units or less can receive a 360-liter recycling bin within the year of moving in, free of charge. Call 311 to make your request.
Broken or stolen bin?
In case of a broken or stolen bin, residents must contact 311. Please note that each bin holds a serial number which is assigned to the address holder. The Borough keeps a record of these serial numbers and corresponding addresses.
The recycling bin is owned by Ville de Montréal. If you move, the recycling container must stay at its original address.