Household waste
The borough is divided into 4 sectors with 4 different waste collections schedules. The changes apply to housings, businesses and public institutions.
Find your sector and schedule
Holiday schedule
Collections scheduled on December 25 will be postponed to December 26. There will be no collection on January 1.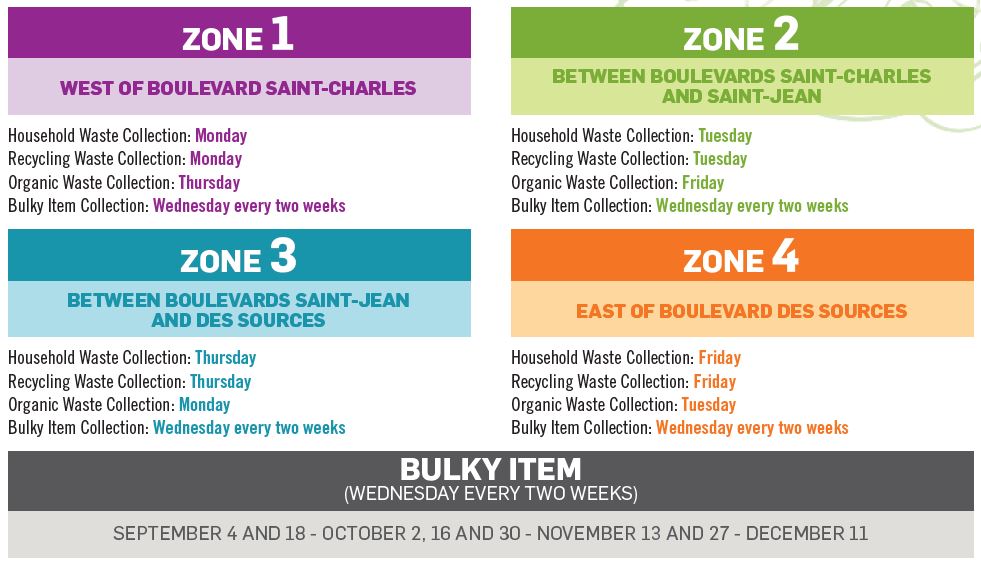 Attention :
bulky items such as furniture, table, home appliances, mirors, bicycle, etc., are
no longer accepted in the household waste collection
.
These items will be picked up at the
CRD and bulky items collection
, every two Wednesdays.
EXCEPTION
Only padded bulky items will be collected: couch, sofa, mattress, etc.
Household waste must be out for collectin between 7 p.m. and 7 a.m. (9 a.m. for businesses and public institutions)
Moreover:
Your containers, bins and/or bags must be placed at the curb, in front of the building, in your driveway, as close as possible to the street or sidewalk.
Never place containers and/or bags on the sidewalk or on the street;
Never place your containers and/or bags on snow banks;
Padded items must be placed in an orderly manner on your property;
Garbage containers without handles are not accepted;
Containers, bins and/or bags must be easily visible and accessible to the operator at all times.
What goes in the household waste?
All non-reusable items, in other words all that is not accepted in the other waste collections.
Non-recyclable packaging, styrofoam, plastic wrap, jar of yogurt made of plastic No 6, unusable carpets, water hose, diapers and sanitary napkins, padded items such as couch, cushioned, mattresses, box springs, pillows etc.
Not sure or having doubts? Consult the different waste collection pages.
Accepted containers
Metal or plastic garbage cans with lids and handles with a maximum capacity of 120 liters. Garbage collection is limited to 150 kg per collection unit; that is to say six compliant containers, weighing not more than 25 kg each;
Polyethylene bags, tied or knotted so that no waste can escape;
Rolling bins of 120 liters, 240 liters and 360 liters.
Refused containers
Metal or plastic can of 205 liters (45 gallons)
Containers of more than 120 liters;
Containers without handles.
In order to avoid interruption of the household waste collection service and to ensure the safety of collectors, please comply with the regulations by using a valid waste container.
Did you know…
In 2012, household waste generated 5.5% of total greenhouse gas (GHG) emissions in the province of Quebec. By adopting good residual management practices, we all contribute to the improvement of our environment.
Find out more about residual mangement by consulting the Plan Directeur of the Ville de Montréal. (French only)